Canada's free platform for badge earners
Use CanCred Passport to store all the badges that you earn. Share your badges on LinkedIn and other social media sites.
Earn your first badge!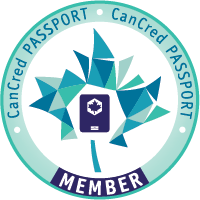 Explore how you can receive a badge and create your own free badge passport.
No special requirements, no cost, no obligation! Just complete the form that appears when you click on "Get the badge" and look for the email that follows.
Become a Passport expert
Check out our video tutorials to learn how to:
Accept your first badge and make it public for sharing
Share a badge on LinkedIn
Build your Passport Profile
Set your location on the map
Upload new badges
Download and share a PDF badge
Learn more on our Help page.
News
The CanCred platform was upgraded this morning, bringing exciting new features to help you collect and share badges.

Check out this quick demonstration showing how to add a badge to your LinkedIn Profile.

Self-claimed badges give you the possibility to get recognized for individual skills and achievements that educators and employers haven't anticipated and are not described by existing badges.