Canada's free platform for badge earners
Use CanCred Passport to store all the badges that you earn. Share your badges on LinkedIn and other social media sites.
Earn your first badge!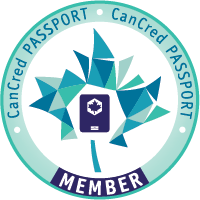 Explore how you can receive a badge and create your own free badge passport.
Just complete the form that appears when you click on "Get the badge" and look for the email that follows. The badge acceptance process will guide you in setting up your free CanCred Passport. No special requirements, no cost, no obligation!
News
CanCred is pleased to announce that we have achieved official certification for Open Badges version 2.0 in all three available categories:

CanCred has completed the process of becoming a bilingual cloud service for all Canadians:

Don Presant, President of CanCred by Learning Agents, was proud to partner with Michel Singh, CTO, eCampusOntario on a presentation at IMS Global Learning Consortium's Digital Credentials Summit in Tempe, Arizona. The presentation focused on collaborative approaches to issuing and recognizing badges that leverage the advantages of CanCred technology and eCampusOntario's network of post-secondary institutions: