Your Open Badge eCredentials can open doors
WE ARE CANADA'S PLATFORM FOR OPEN BADGE EARNERS
Use CanCred Passport to store your Open Badge eCredentials safely and share them in all kinds of places to meet your learning and career goals.
Free and easy to use!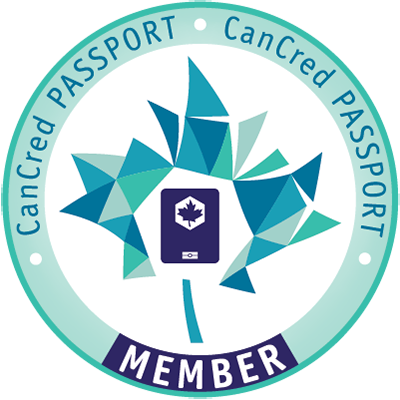 Claim a CanCred Passport Member Badge As You Sign Up
Explore the process of receiving an Open Badge eCredential.
Just complete the form that appears when you click on "Get the Badge" and look for the email that follows. The badge acceptance process will guide you in setting up your free CanCred Passport. No special requirements, no cost, no obligation!
If you already have a CanCred Passport, it's even easier!
News
New feature in CanCred Passport - Apply for a Badge

A new feature has been added to CanCred Passport. Badge issuing organizations using CanCred Factory can now advertise their badges in Passport's Gallery section.

The aim is to give better visibility to earnable Open Badges so that:

badge issuers can make their learning more accessible
badge earners can start to build their own learning pathways with badges

Earnable badges may be found in Gallery → Apply for a badge:

Users can search for badges by the name of the badge or by the issuer organization with the Search tool.
NB! Badges allocated...

Waterloo University - Open Badges Keynote Kicks Off Educational Technologies Week

On February 27, Don Presant of Learning Agents, providers of the CanCred.ca Open Badges service, delivered a keynote presentation entitled Recognizing Knowledge & Skills in a Digital Age.

The fast-moving presentation framed and explored emerging Open Badge practices worldwide, using emerging research, case studies and innovative practices from innovators such as Open University, Penn State University, Deakin University, UBC, and IBM.

Slides from the presentation are embedded below:

Don's key message:

Open Badges can engage learners and make learning more visible, transparent, and...

CanCred.ca hosts BC Open Badges Forum with KPU

On February 17, CanCred.ca hosted a innovative cross-sectoral workforce design lab in partnership with Kwantlen Polytechnic University's Teaching and Learning Commons.

The BC Open Badges Forum was held at the Melville Centre for Dialogue at KPU's Richmond Campus. Eighty participants from education, non-profit, private and public sectors came together to learn from each other and from successful experiences in other regions about the power of Open Badges as alternative credentials for skills and knowledge and as currency for open recognition networks.

The interactive Forum applied design practices from similar networks and events, such as the READ MORE...
Salava open source project is now open!
We have now published the website for Salava, which is an open source project regarding Open Badge Passport . Check the website and join the community of users and developers, share ideas and create something new and exciting!
Open Badges – Moving from Further Professional Training to Self-directed Competency Development
Open Badge Factory Academy was launched with this webinar. Eric Rousselle from Discndum welcomed everyone and said a few words about the Academy and its purpose. Omnia's Esko Lius and Pete Stockley presented a very interesting and successful use case, which sparked a good conversation between the participants.
Watch the webinar recording here.
You can find the slides for the presentation here.